As many as several hundred people gathered at the White Bridge in Vilnius to celebrate the 10th anniversary of Mamų unija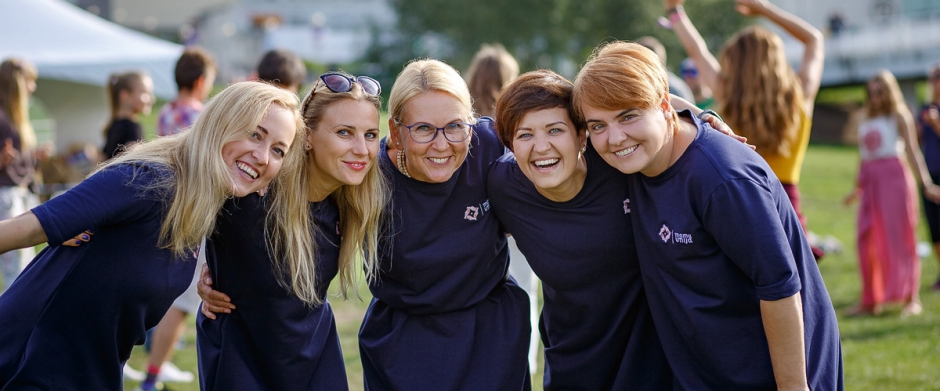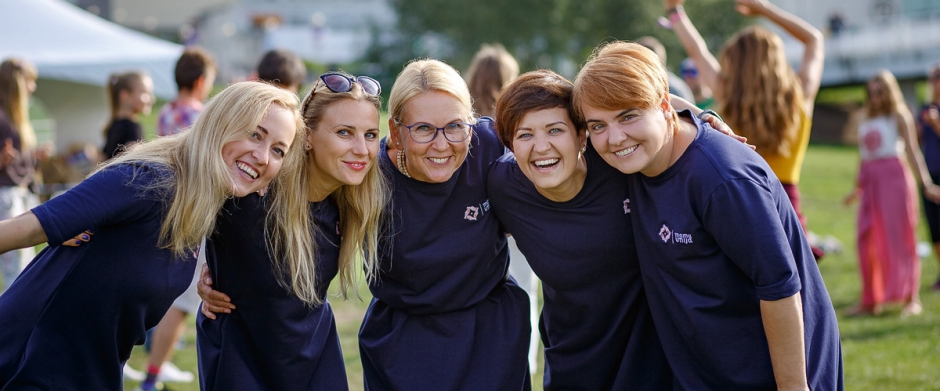 Mamų unija spent an extraordinary Sunday. Representatives of the charity foundation celebrated the 10th anniversary of their activity and gathered all their friends, team-mates, sponsors and partners in a flower field at the White Bridge in Vilnius. They organised a family-type event Vienybės tiltas (The Bridge of Unity) focusing on families whose children suffer from an oncological illness.
According to President of Mamų unija Eglė Mėlinauskienė, this was an opportunity to spend some time together and to express gratitude to like-minded people who contributed to the Foundation's pursuits.
"This year Mamų unija celebrates the 10th anniversary of activity. All around the world September is a month of children's oncology. Moreover, 6 years ago we started organising events calling to the public to unite, commemorate and support children with cancer and their families. Thus our choice of the date is not accidental.
The aim of the event has remained the same through the years – expressing our gratitude to everyone whose help and support enabled us to complete a great number of highly important projects and without whom we could hardly continue our tireless work. It does not matter at all whether it was a brief trip or a long friendship. Each contribution is greatly valued and this is how we say thank you today", Eglė Mėlinauskienė said.
Agenda: all-day activities and educational lectures
Eglė believes that everyone was able to find an interesting topic or activity during the birthday event. Entertainment was enjoyed by both, adults and children.
"Our morning started with an energetic activity Rytelis organised by sports coach Ignas Bakėjus. Later on, we enjoyed a picnic Maisto pieva. Our guests were invited to learn about motivation and awareness during a lecture Pažinimo medis held by personal efficiency coach Darius Ražauskas. Vilnius district Police Department representatives taught domestic violence prevention techniques while Vilnius City Municipality Public Health Bureau educated on healthy nutrition and lifestyle.
This memorable day ended with a bang: a concert titled We cherish those near us with the X-factor finalist Augustė Žičkutė and singers Monika Ganga and Kristina Jurevičiūtė. We are happy that each activity was immensely enjoyed and our guests spent this Sunday in a meaningful and fun way", reported Eglė Mėlinauskienė.
The latest project: a support centre for families with seriously ill children
As the president of the Foundation stated, the aim of this event was to draw some focus to the latest project of Mamų unija: the Family Home. This is a rehabilitation and information centre for seriously ill children and their families. The project still lacks some funding in order to be fully completed.
"I am sure that all our efforts and will stem from deeply-routed values, love and desire. This immense desire to help was the driving force behind the Family Home idea. Some say that this was a crazy idea. I must admit that such a project is a great challenge to an NGO. It may only be implemented through private funding. That is why today, when we finally see the finishing line, we wish to express our gratitude to the Chicago Mothers Foundation, to the Lithuanians in Ireland and England, other Lithuanian communities abroad, to the Kazickai Family Foundation, Lietuvos energija, and McDonald's restaurant chain in Lithuania.
Of course, until the project is fully complete we still need some professional support and to collect 800 thousand euros. We simply want to ensure that seriously ill children in Lithuania and their families survive this unimaginably difficult time with more ease, have a chance to recover from such a traumatic experience and serious illness. If you are able to contribute to the children's well-being, you are very welcome to do so," Eglė Mėlinauskienė said.